'Suzukagawa': a kaleidoscope of sake,
a kaleidoscope of tastes
Colourful, sumptuous patterns of Ise-katagami proudly decorate our bottles of Suzukagawa sake. The traditional industry of Suzuka, Ise-katagami has supported the beautiful kimono culture of the Japanese people since ancient times. In wearing this splendorous tradition of Suzuka, it is our hope that our Suzukagawa sake will make Suzuka proud – and, just as each style of Ise-katagami has its own unique charm, that there is a Suzukagawa sake that anyone can enjoy, whatever their taste.
Always flowing freely, a sake
as cherished as the Suzuka River
Soft, clear water from the steep Suzuka mountain range, rice from the bountiful Ise Plain – Suzuka is blessed with an ideal natural environment for sake brewing.

Now some 150 years old, our brewery was founded in Suzuka in 1869. The Suzuka River ('Suzukagawa' in Japanese), always freely flowing, has always been an indispensable part of our lives. Named after the river, we brew our 'Suzukagawa' sake with all of our heart and soul, in the hope that it is cherished as much as the precious waterway that has sat at the centre of our community since ancient times.
Ise, where the toji tradition
lives on
In the Edo period, many of the sake breweries in Ise were run by local toji (master brewers). For instance, Tomoshichi Hoshino taught sake brewing to the Akita Satake Clan in 1865, working to improve the brewing process. Later, a large group of toji, known as the Nagano Toji, was formed, laying the foundations for the famous Akita brewery in Tohoku. In short, the Ise toji have long been trailblazers.

With modern technology, sake-making has of course evolved since then. Cooling and mechanical systems mean we can now brew all year round. Employing our brewers to work 12 months of the year, our toji and other brewery staff are always sharpening their senses and intuition, seeing things they couldn't see yesterday. In this way, we hope to improve our sake each and every day. Learning from the traditions of our ancestors, the modern Ise toji continues to develop the craft of brewing.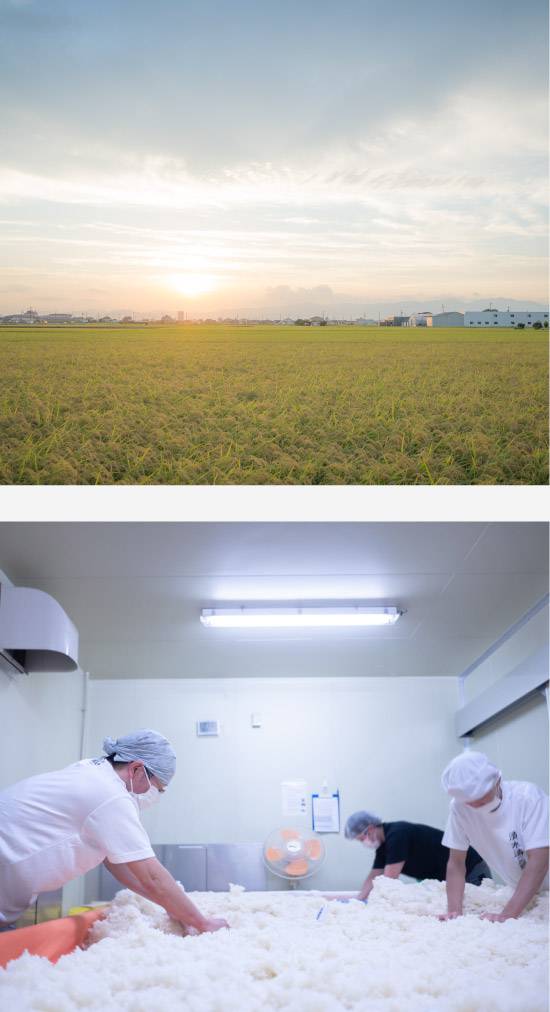 Suzuka, where intricate
Ise-katagami and the DNA
of craftsmanship live on
The pattern used on the packaging of Suzukagawa is from Ise-katagami, a traditional craft of paper cutting local to Suzuka, with those stencils then used to dye beautifully patterned textiles. Ise-katagami, once renowned across Japan, was produced in a wide variety of designs for customers across the nation. In the 19th century Ise-katagami was brought to Europe, where it quickly captured the imagination of the locals, and is said to have influenced art movements such as Art Nouveau. The production of attractive stencils requires not only skill and design, but also a passion for one's craft. The very same is true of sake brewing. We sincerely hope the labels on our Suzukagawa sake can serve to widen the appeal of Suzuka's artisanal crafts.